New research finds the 5 causes of the abdominal bulge and the quickest, easiest ways to flatten it like a board.
Excess fat is NOT the biggest cause.
By Daniel Hanford, Media Services
Now you can get rid of your stubborn pot belly quickly and easily.
New research has finally uncovered why the lower abdomen bulges out and how to correct this stubborn problem.
There are a multitude of reasons that the lower abdomen bows out and why it is so difficult to flatten. Many of the reasons have nothing to do with excess fat.
But now the upper and lower abdomen can be flattened using little-known, new advanced methods developed from this new research by Certified Personal Trainer, Nutritionist and all-time best selling health and fitness author Frank Campitelli. These methods are quick and easy to do right in your home.
Campitelli's methods have proven effective for people with all levels of fitness and health, from celebrities to the over forty crowd. Campitelli has received many letters from the hundreds of thousands of people who bought the book, raving about how his methods have flattened their abdomen.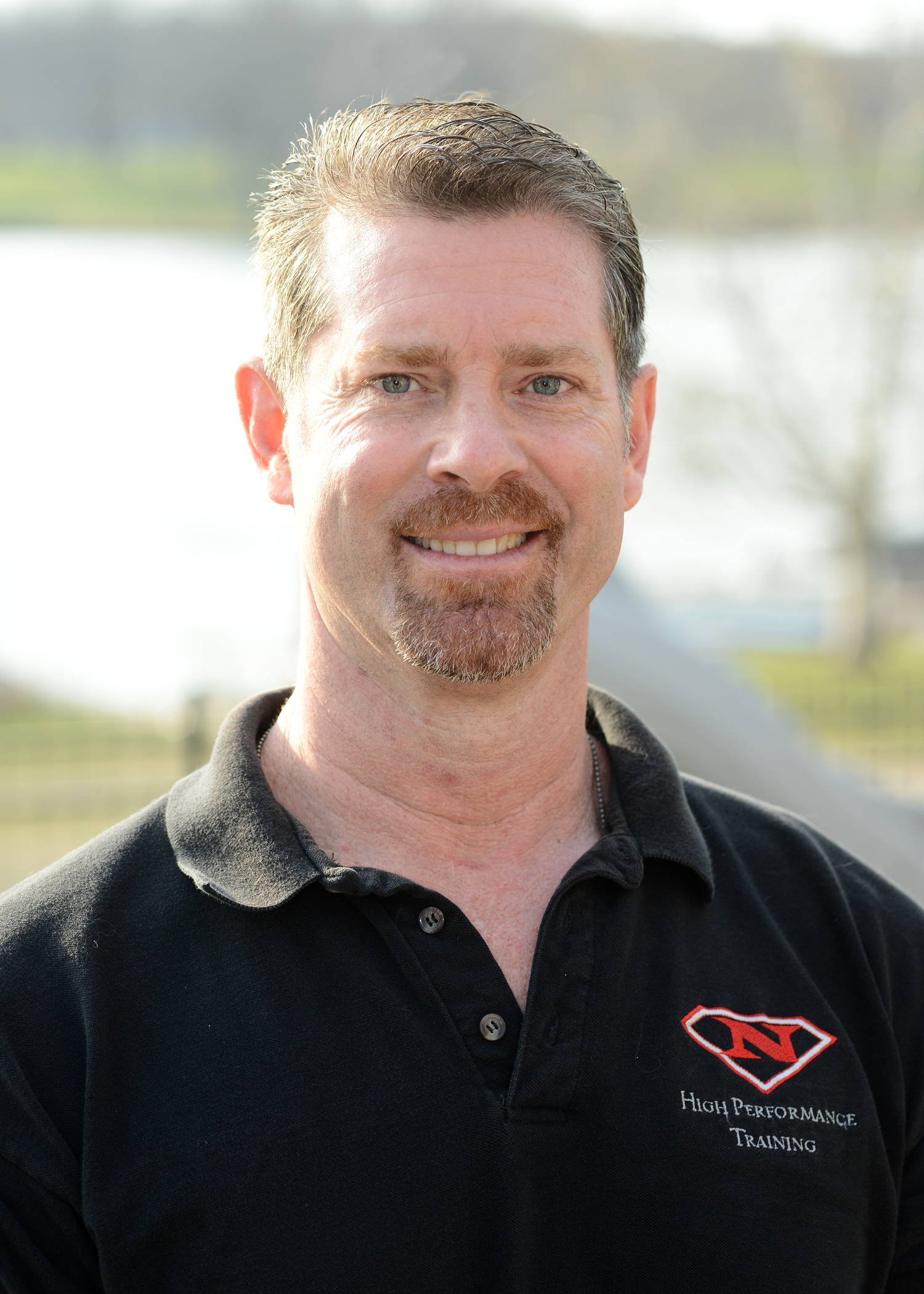 BioTech Research® Director Frank Campitelli is a Certified Personal Trainer, Nutritionist and is on the board of the National Federation of Personal Trainers (NFPT). Campitelli is also an all-time best selling author on health and fitness.
Most people try to flatten their lower abdomen with sit-ups. This is absolutely the wrong way. Also, you do not need to starve yourself or become anorexic because that won't flatten the lower abdomen either.
Campitelli says, "Few people know how to properly exercise the abdominal and waist muscles, especially the lower abdomen. Also, in everyday modern living activity, the abdominal and waist muscles are not used extensively. This is one of the reasons the abdomen sags. But, it is not the biggest reason."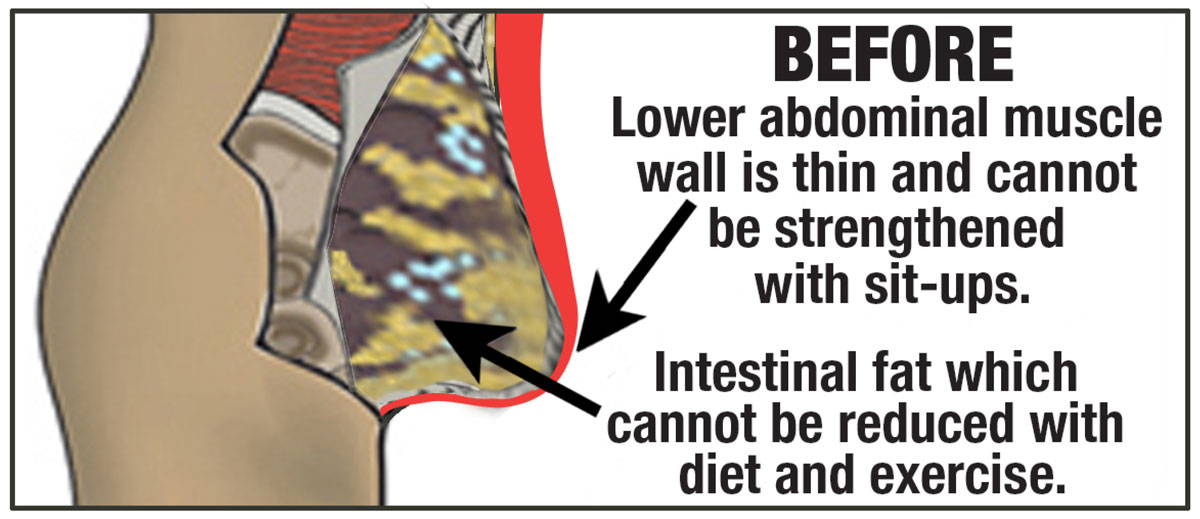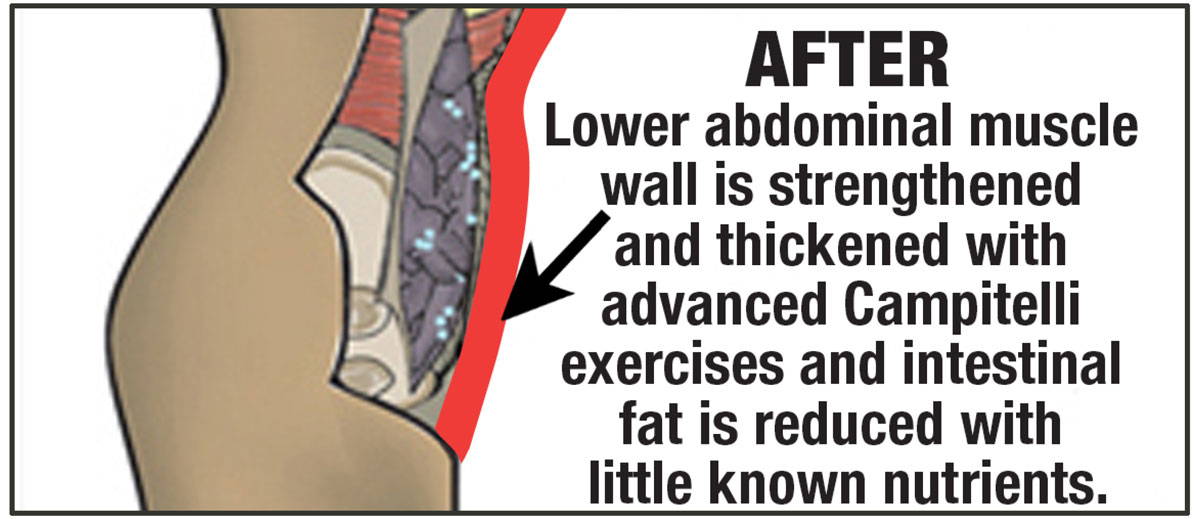 Campitelli goes on, "One of the biggest reasons the lower abdomen bows out is due to poor posture caused by weakened muscles in other areas that are also very difficult to exercise.
For women it is also caused by childbearing, but not completely by the fact that the pregnancy caused lower abdominal areas to stretch. During pregnancy, a woman's lower back is pulled in, which tilts the pelvis in a forward position, causing the buttocks to stick out and up and the lower abdomen to protrude. But after pregnancy, through habit and for other reasons, it does not return to a normal position. This can be corrected.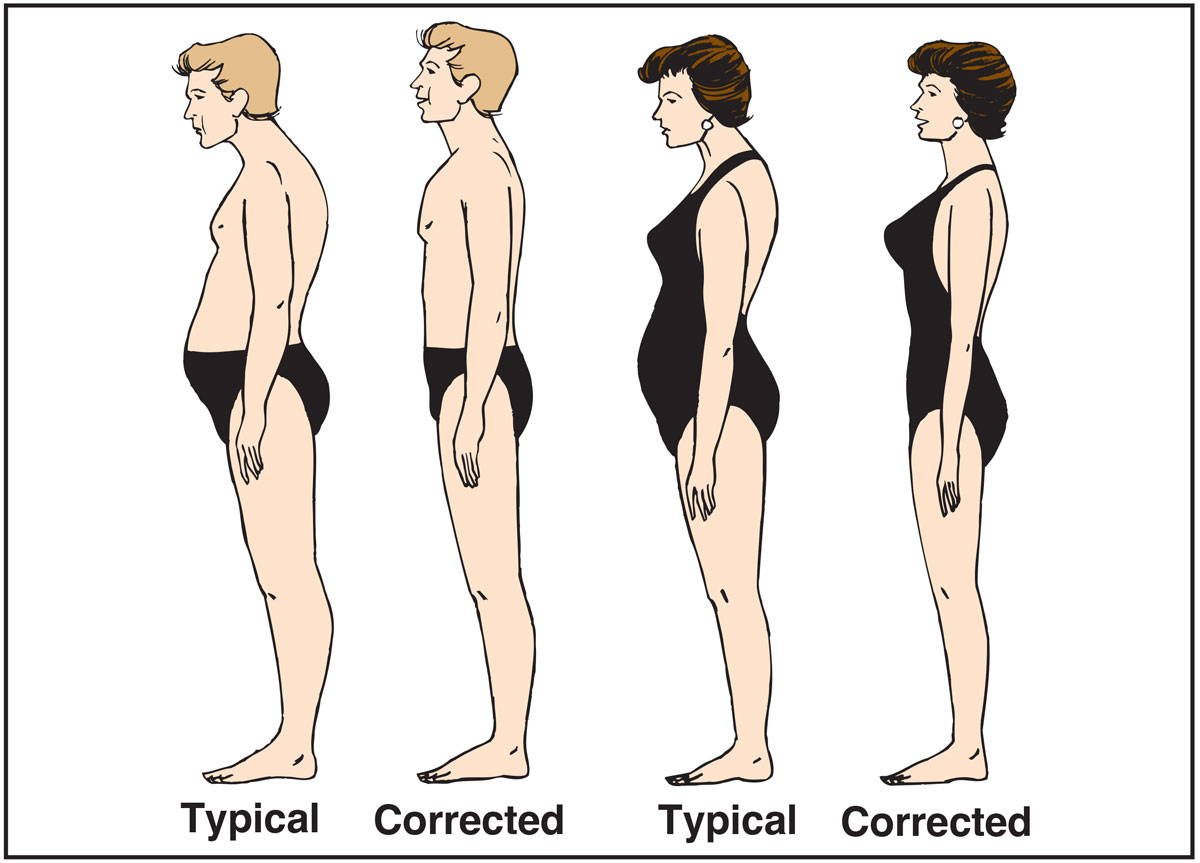 Another cause of lower abdominal bulge is actually weak muscles in other areas of the body which cause bad posture and misalignment of body parts. Excess fat is also one of the causes of lower abdominal bulge, but more so for men than for women. The main fat storage area for men is the abdomen, but the main fat storage area for women is the hips and thighs. Typical male and female profiles are to the left and the corrected profiles using the Campitelli Advanced Method are to the right.
Campitelli then revealed that, in order to flatten the lower abdominal area, there are a number of things that have to be done that are very specific and require expert advice.
Much of it actually requires doing little-known exercises to other parts of the body to flatten the lower abdominal area.
If you do have excess fat, you must also get rid of that to finish the job. But, again, most people go about this in all of the wrong ways.
Campitelli states, "They go on low-calorie diets, they go on starvation diets, they go on liquid diets, they go on high-protein diets, and so on. These will either not work at all or only work on a temporary basis."
But the good news is this. There is also a new advanced way to reduce fat in the abdominal and waist areas as well as all over the body that is not only virtually painless but many people feel it is quite pleasurable. These advanced methods have been proven to speed up your fat burning rate 200% - 300%.
Childbearing is yet another cause of lower abdominal bulge, but not so much from stretched skin as most people believe. The biggest cause is the fact that during pregnancy, the pelvic bone is tilted to the rear and the buttocks also extend in that direction. But after pregnancy, in most cases the pelvic area does not shift back to its normal position, which causes the buttocks to remain overextended to the rear and the lower abdomen to be overextended in front. This can be corrected with the Campitelli Advanced Method.
A flat abdomen and slim waist are the biggest keys to a good figure. If you have these, your entire body looks beautiful and most sex appealing.
Campitelli has put all of this advanced knowledge, which will provide you with all of these little-known secrets to a slim waist and abdomen, into his all-time best selling book titled The Campitelli Advanced Method for a Flat Abdomen and Thin Waist. This book is fully illustrated, very easy to read and contains all of the methods you need to reduce your waist and flatten your abdominal area, especially the difficult lower abdominal area.
The Campitelli system is also quick, easy and inexpensive to do. You don't need to buy any equipment or any other special items. It all can be done right in your home in 20 minutes, 3 times per week while you are watching television.
Excess fat is not the biggest cause of abdominal bulge. But it is still a big cause. Frank Campitelli and BioTech Research® have developed a product that is clinically proven to get rid of this excess fat and make you much healthier. It is TOTAL35™, which was developed by doctors and nutritionists who service professional athletes and movie stars.
Regarding TOTAL35, Campitelli said "Americans over the past 30 years have become sicker and fatter. Here is why.
Americans are suffering from malnutrition.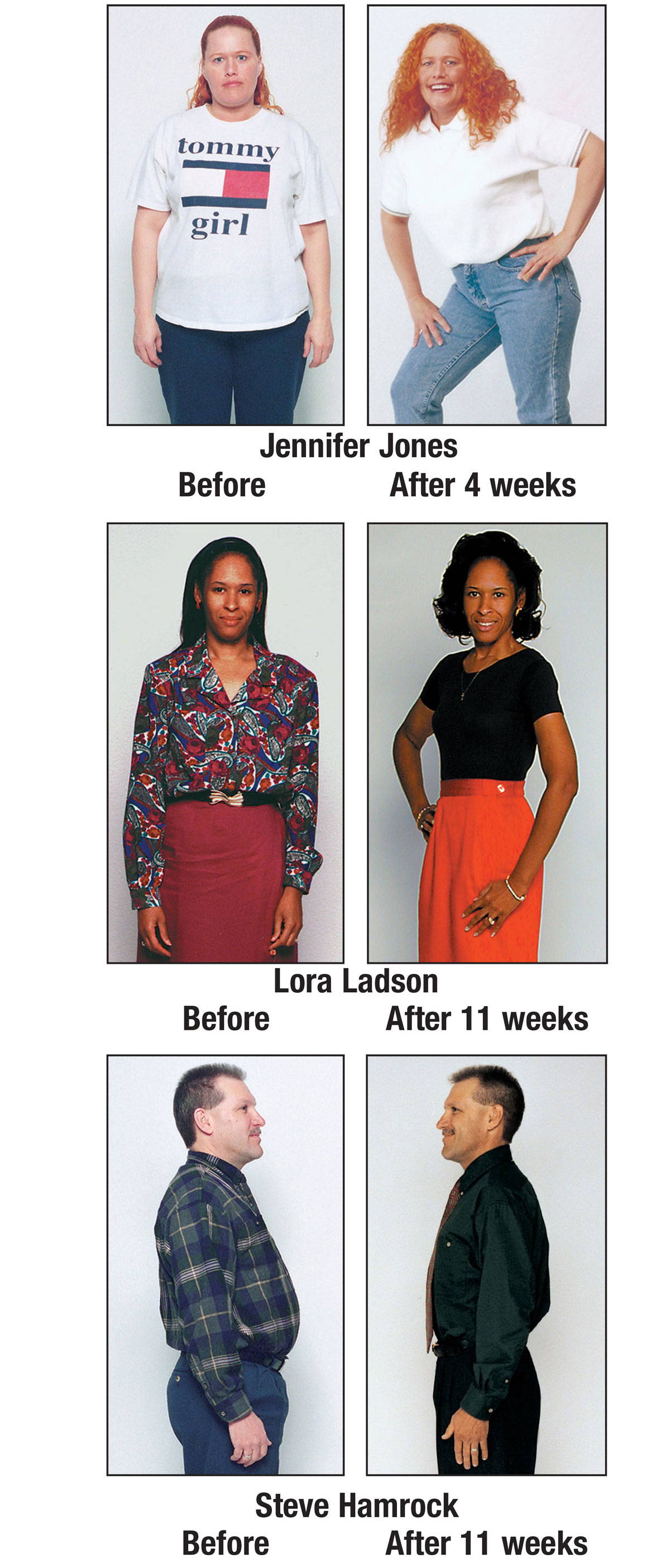 In a clinical study conducted by BioTech Research® and Cleveland Clinic doctors, 28 research subjects who took the TOTAL35 nutrients and did minimal exercise greatly improved their health and lost excess body fat. Three of the research subjects are pictured above.
Americans eat a lot of food, but the food is void of most of the critical 35 nutrients. This is because of farm soil nutritional depletion, genetically altered food sources and excessive food processing. Multiple vitamin and mineral pills such as One-A-Day® and Centrum® and the liquid nutritional drinks such as Ensure® and SlimFast® do not come near to providing the 35 critical nutrients. The few nutrients they do provide are low quality and are not well absorbed by the body. And most of the nutrients are not provided in adequate amounts.
Therefore the bodies of Americans are craving the missing nutrition of the 35 critical nutrients. This causes endless food cravings. So Americans keep eating more nutrient-deficient food to try to satisfy these cravings. This causes them to become fatter and fatter.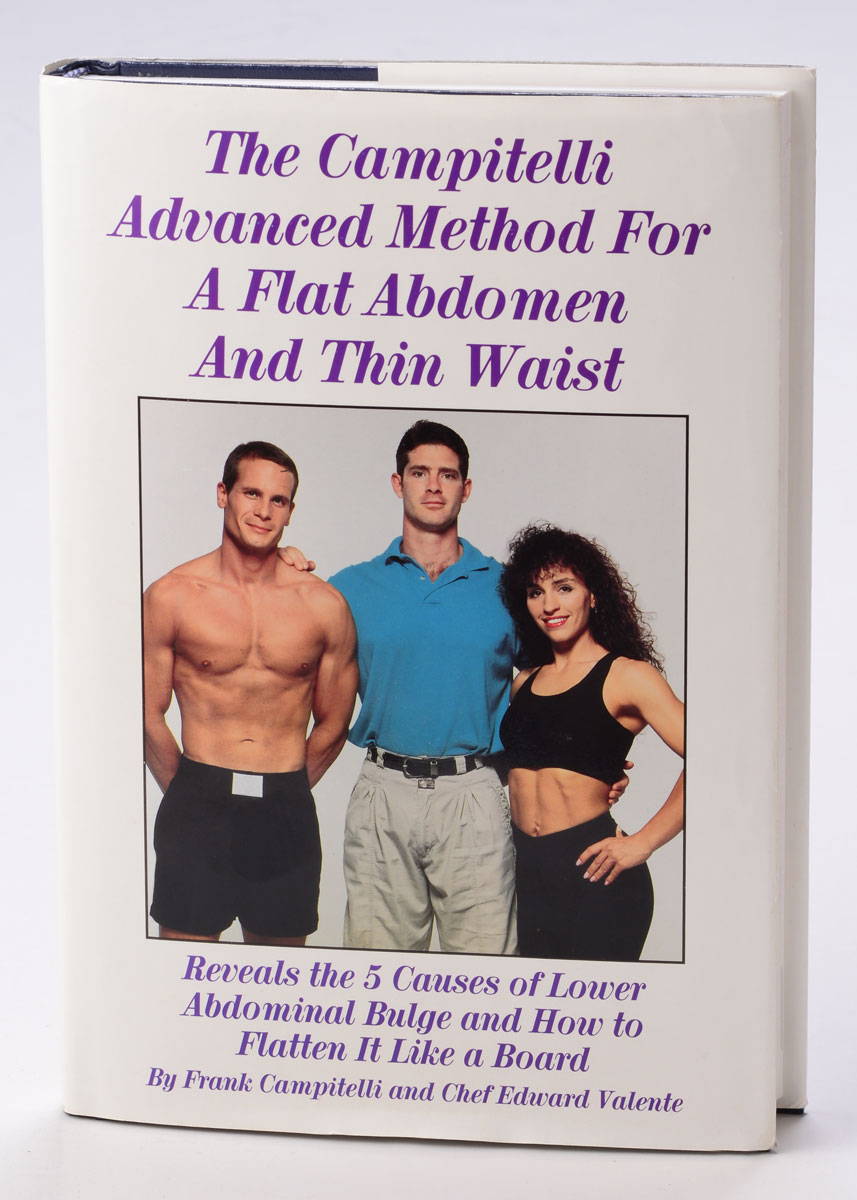 Frank Campitelli's all time best selling book.
Also, this malnutrition causes many health problems. The body needs the critical 33 micronutrients, which are calcium, vitamins and minerals, to assemble the 2 critical macronutrients of protein and collagen protein. This lack of the critical micronutrients causes loss of muscle, brain matter, organ matter and gland matter. It also causes many malfunctions in the body's metabolic systems."
The TOTAL35 shake ingredients come in powder form which contains all of the 35 critical nutrients. It comes with a 29g measured scoop. All you do is put 2 scoops in a shaker or blender and add 12-16 oz. of your favorite beverage to take 1 shake a day. Or, you can add 1 scoop to 6-8 oz. of your favorite beverage and take 2 shakes a day if you wish. You then will have all of the 35 critical nutrients you need for the entire day. Then all you need to do to get your fat and carbohydrates for the rest of the day is eat foods such as bread and butter, donuts, potato chips, corn chips, French fries, pizza, pasta, etc. If you are trying to lose weight eat 800 calories of this great tasting junk food and you will lose weight super fast.
One TOTAL35 220 calorie shake provides 100%+ RDA of the 2 critical macronutrients and 33 critical micronutrients.
You can get all these 35 critical micronutrients in one TOTAL35 shake a day. Or, if you wish, you can break it up into 2 shakes a day.
If you purchase all of the nutrients that are in TOTAL35 it would cost you well over $300.00 for a 15-day supply. Now see below how much money you will save by getting TOTAL35 with this discount.
Today you can get a big discount on The Campitelli Advanced Method for a Flat Abdomen and Thin Waist book, which costs $27.00 and the 15-day supply of TOTAL35, which costs $79.00 for a total of $106.00 plus $20.00 shipping and handling for a total of $126.00 delivered. You can get both with this discount for only $79 plus free shipping and handling.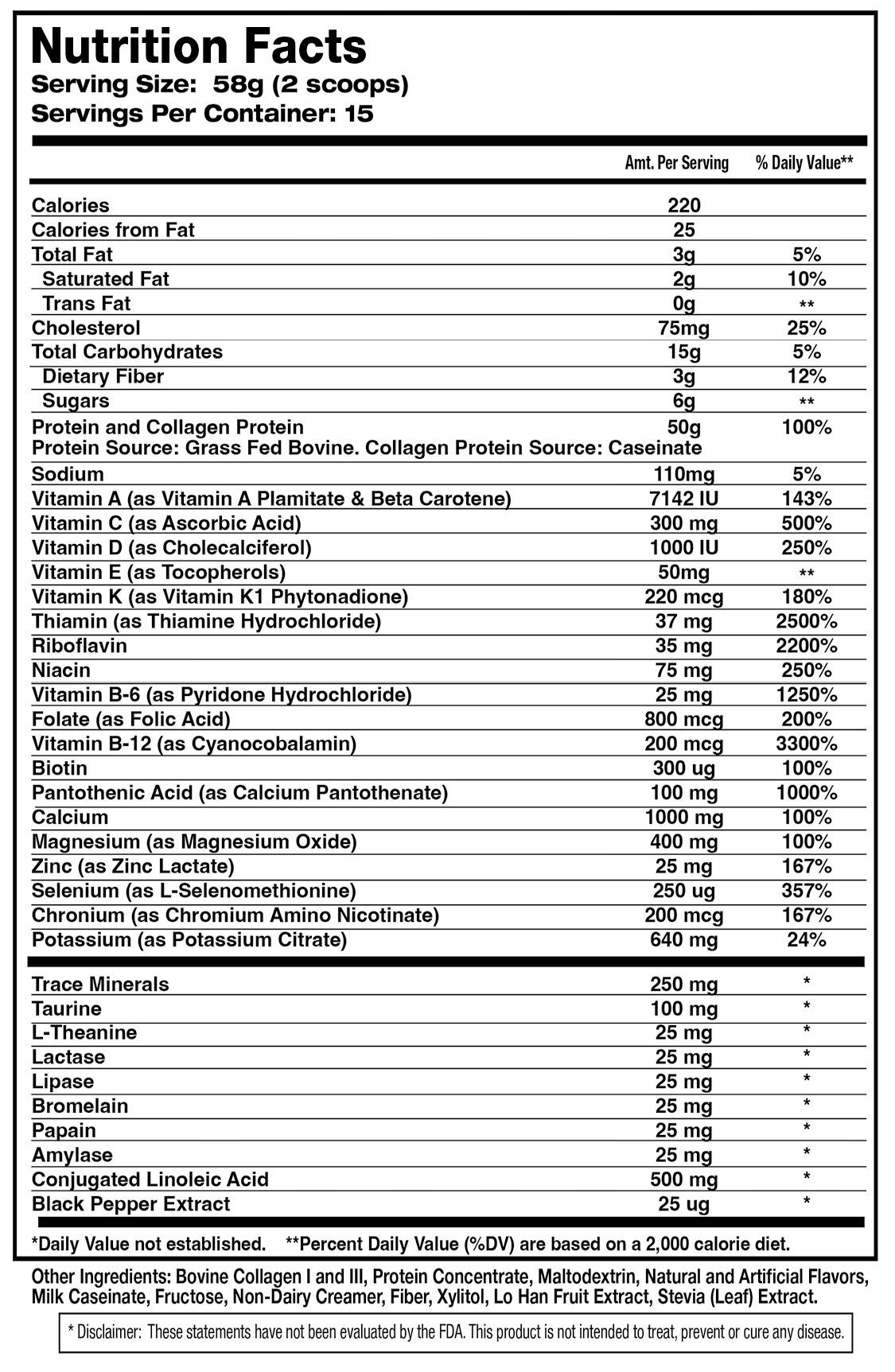 To claim BioTech Research TOTAL35 and The Campitelli Advanced Method for a Flat Abdomen and Thin Waist book by phone call 1-800-264-6974 and give the operator your offer code E0486.
To claim BioTech Research TOTAL35 and The Campitelli Advanced Method for a Flat Abdomen and Thin Waist book go to biotechresearch.com or click here:
Your online transactions with BioTech Research are safe.


These statements have not been evaluated by the Food and Drug Administration. This product is not intended to diagnose, treat, cure, or prevent any disease.