SkinDEAGE® is used by doctors and beauty professionals. It is now available to the public.
• SkinDEAGE® provides a facelift in 4 minutes without surgery.
• Better than Facelift Injections and Creams
By Daniel Hanford, Media Services
An advanced professional grade facelift formula, SkinDEAGE®, is used by doctors and beauty professionals. SkinDEAGE® has now been made available to the public.
SkinDEAGE® is far superior to those facelift creams that you see on tv.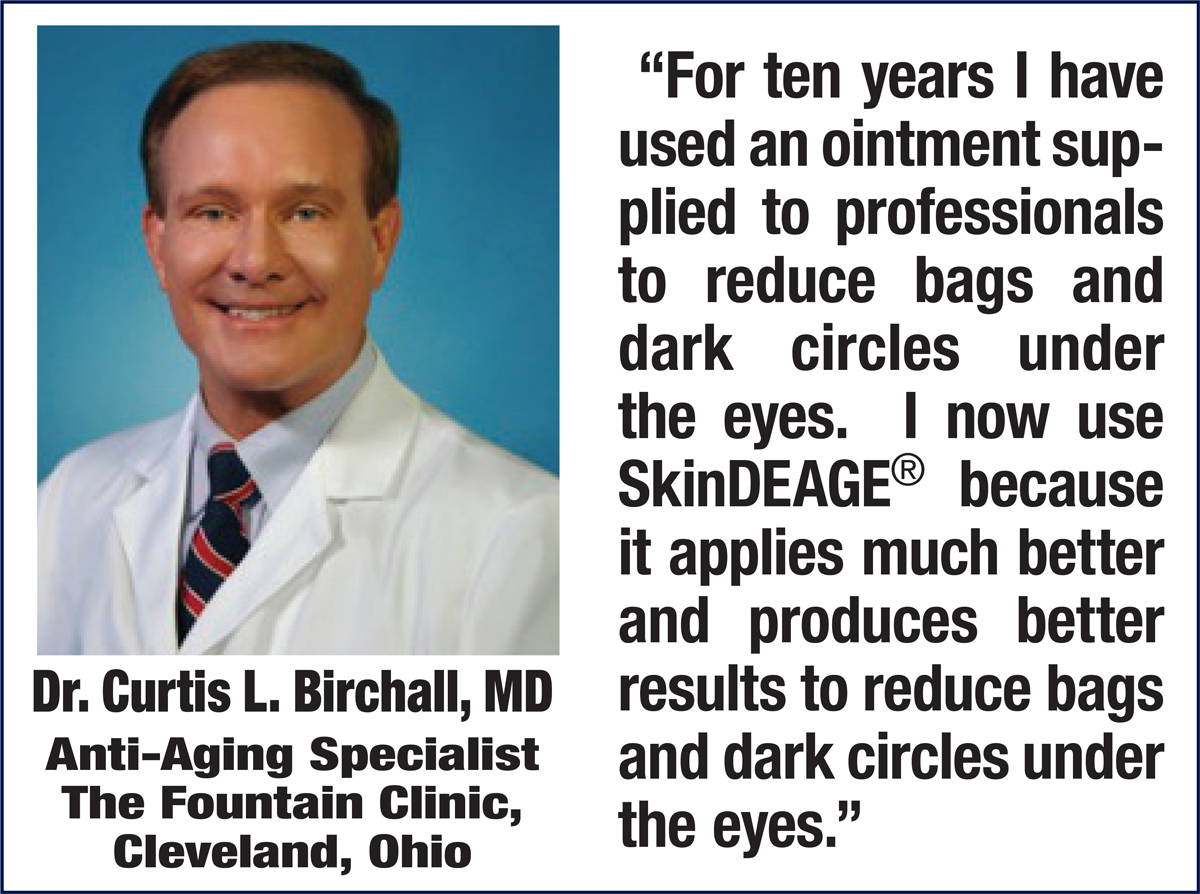 SkinDEAGE® is much better than facelift injections, as follows:
• A facelift injection causes swelling afterwards and it does not even begin to start working for 4 days. A SkinDEAGE® treatment causes no swelling or any other bad side effect. It works to its full extent in 4 minutes.
• Facelift injections only reduces wrinkles and it will not reduce bags under eyes or dark circles under eyes. SkinDEAGE® greatly reduces bags under eyes, dark circles under eyes, wrinkles, and sagging skin.
• Extended use of facelift injections causes damage to face muscles and will create older-looking skin. SkinDEAGE® causes no damage to face muscles and has a clinically-tested ingredient that will make your skin healthier and more youthful-appearing with extended use.
• A facelift injection costs $500. A SkinDEAGE® treatment costs only a few dollars.
The following before and after pictures are true and untouched. Most of the before and after photos you see for other facelift creams have been altered. The first two people are clients of Scott Talbot SalonSpa, located in Canton, Ohio, which is one of the largest and highly rated beauty salon spas in the nation. The second two people are clients of Dr. Curtis Birchall, M.D. at his prestigious Fountain Clinic in Cleveland, Ohio. For all the people, a before photo was taken. They were then given a SkinDEAGE® treatment. The after photos were taken 4 minutes after the treatment.
Scott Talbot SalonSpa, Canton, Ohio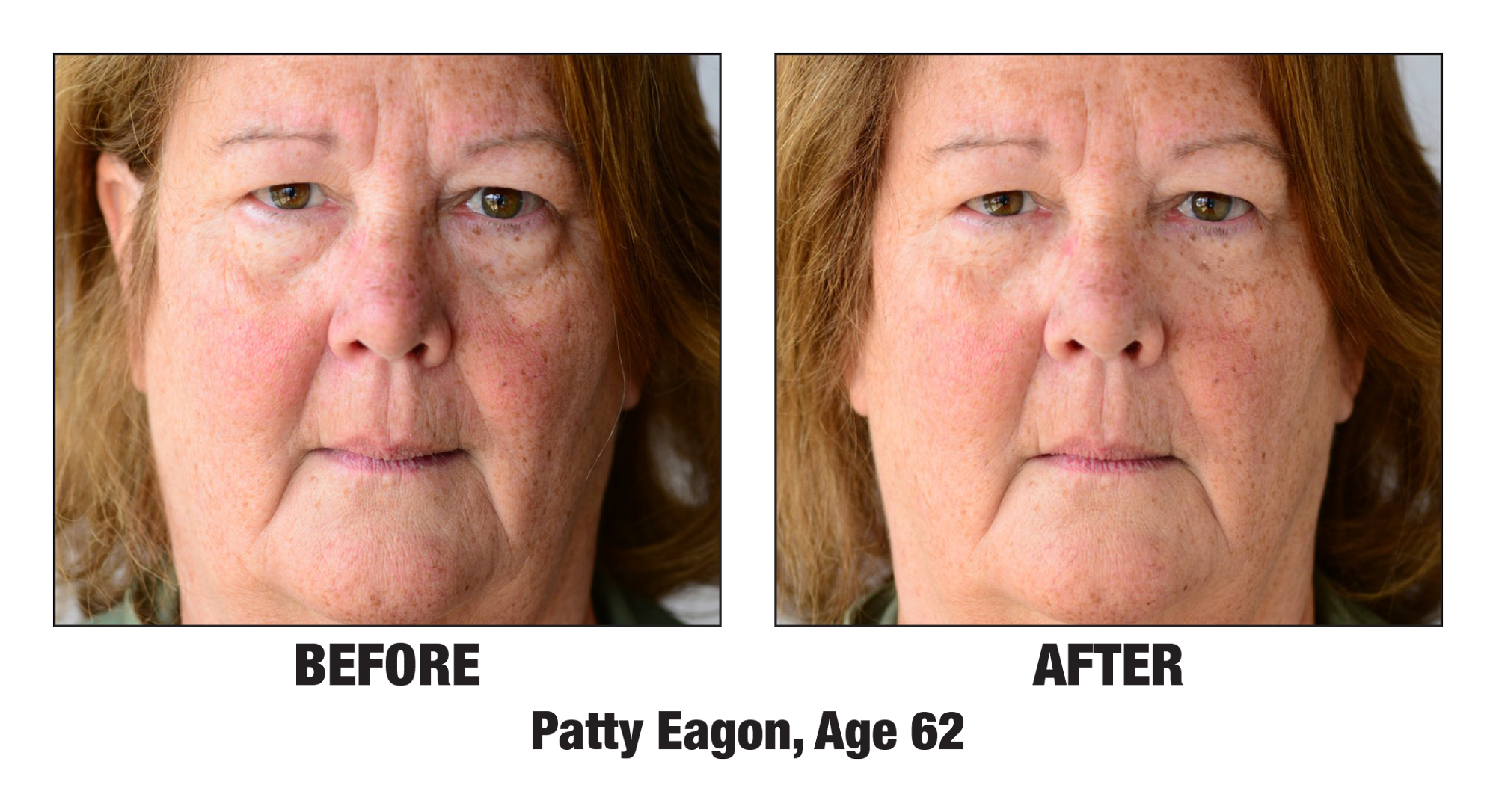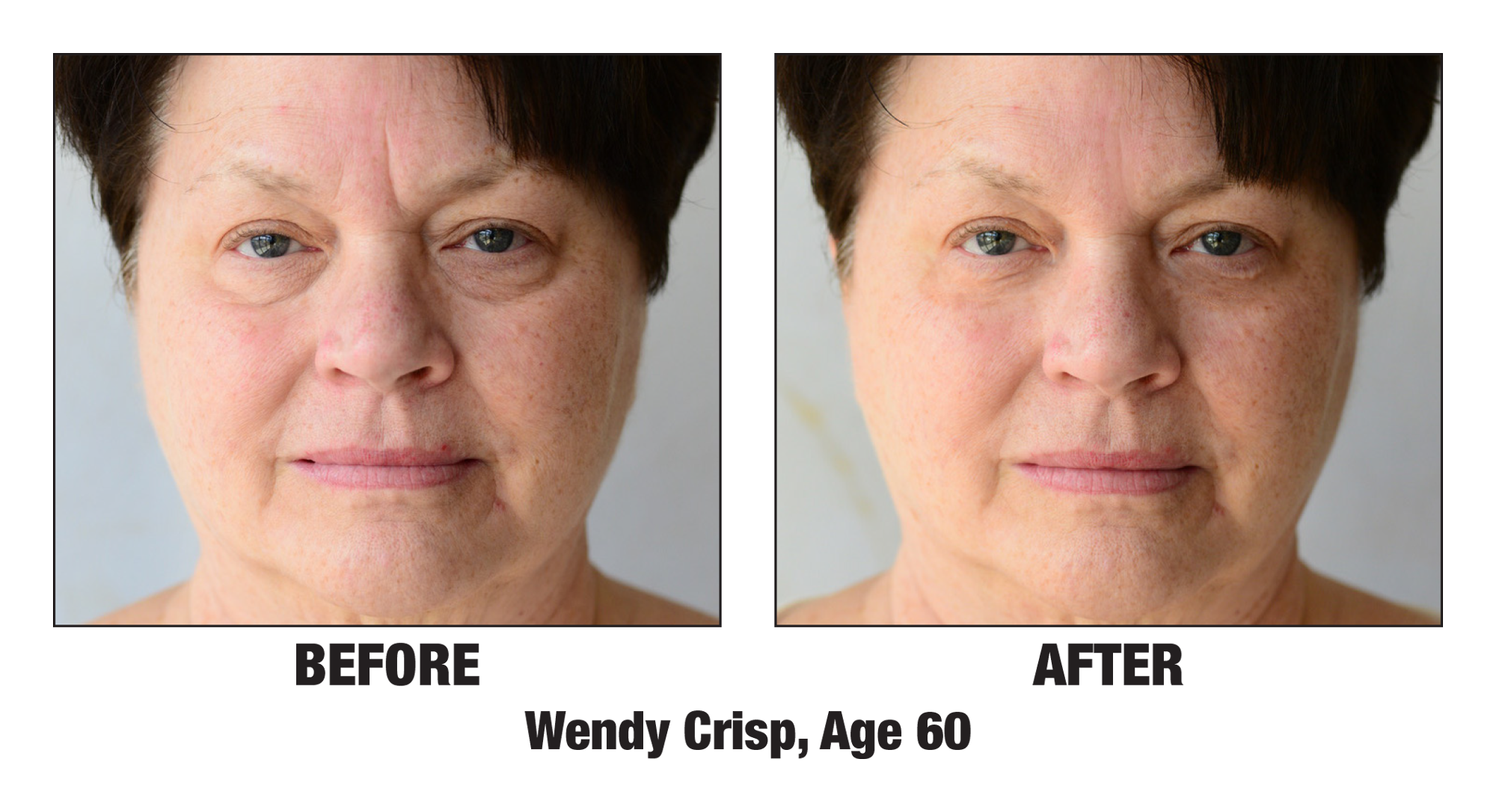 The Fountain Clinic, Cleveland, Ohio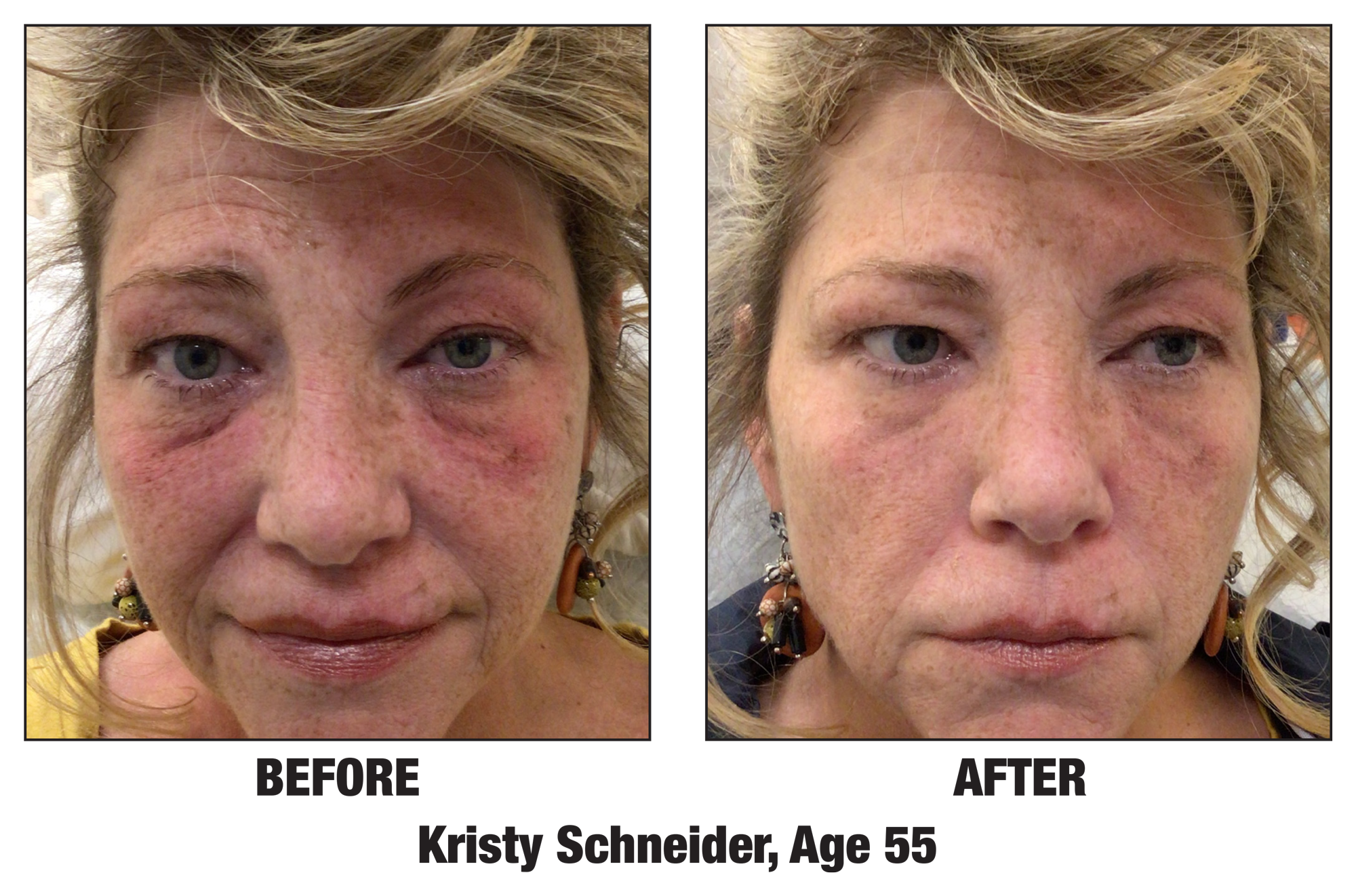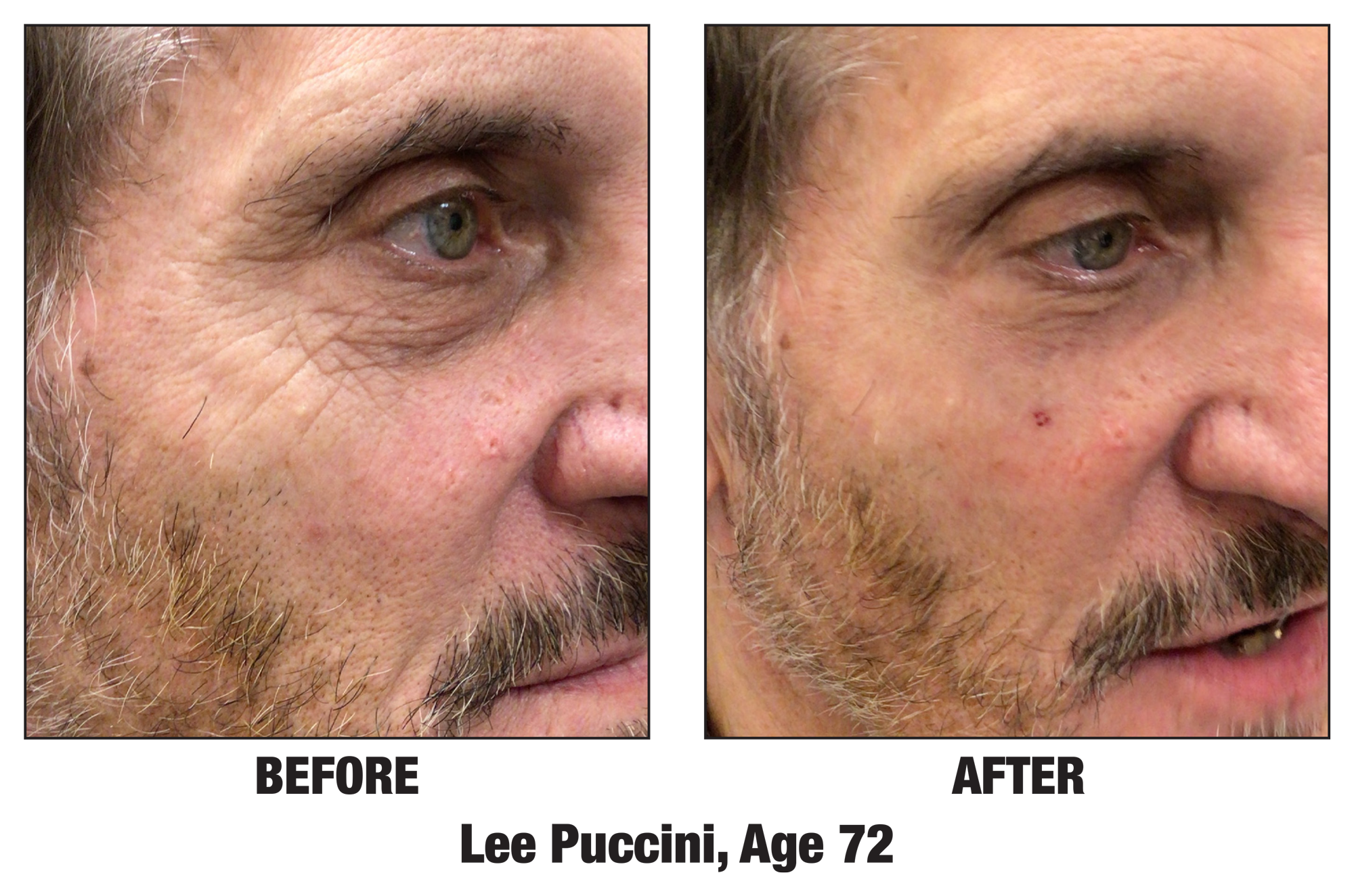 In 4 minutes, SkinDEAGE® visibly reduces bags under the eyes, wrinkles, sagging skin and dark circles. The reduction of bags, wrinkles, sagging skin and dark circles will be dramatic. You won't believe your eyes.
You will see a big difference when you apply it to one side of your face versus the untreated side. Customers say that their friends also noticed the difference and asked them what they did to make their skin more youthful.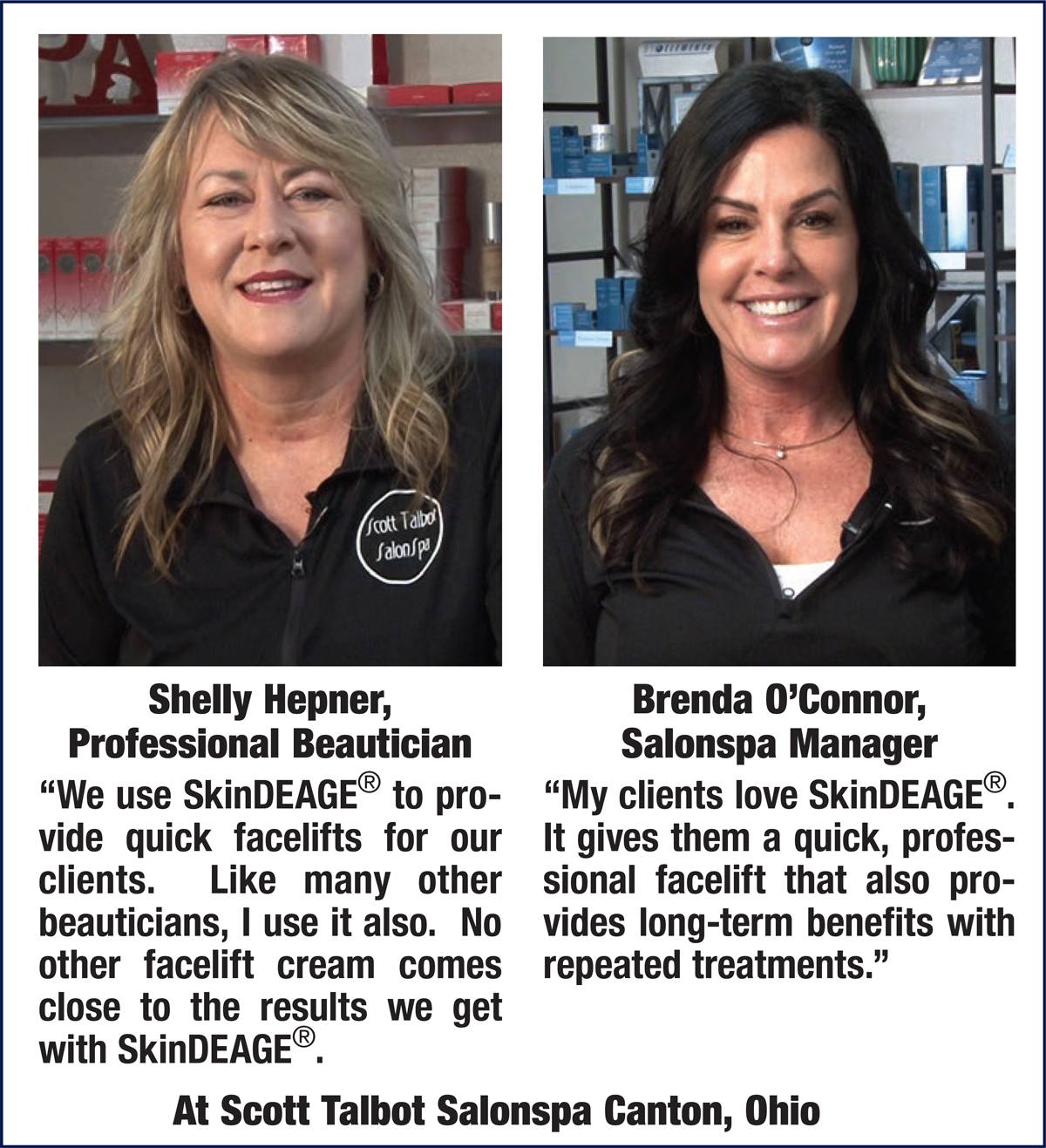 SkinDEAGE® uses a peptide that mimics a crucial protein that is responsible for activating muscle contraction. This tightens and smooths wrinkles, giving you a more youthful appearance.
SkinDEAGE® also has long term therapeutic benefits to your skin. After a few weeks of using SkinDEAGE®, you will see your skin become more youthful with reduced wrinkles and sagging skin.
SkinDEAGE® provides the visual effects of a facelift without surgery. As you age, the muscles and tissues around your eyes begin to weaken. This is what causes the baggy look. When you start using SkinDEAGE® you will notice tightness under your eyes almost immediately. As it takes effect and the skin under your eyes begins to tighten, the bags will vanish, leaving behind only smooth skin.
Your skin also starts to become less elastic over time. This causes your skin to naturally fall and wrinkle. Are you afraid to smile or express emotions because of your wrinkles? When you start using SkinDEAGE® these worries will fade away as quickly as it takes the SkinDEAGE® formula to start working.
No one can escape the downfalls that come with age. One of these downfalls is the appearance of dark circles under your eyes. You see, as you age your skin gets thinner. This causes the blood vessels underneath to become more visible and darken the skin.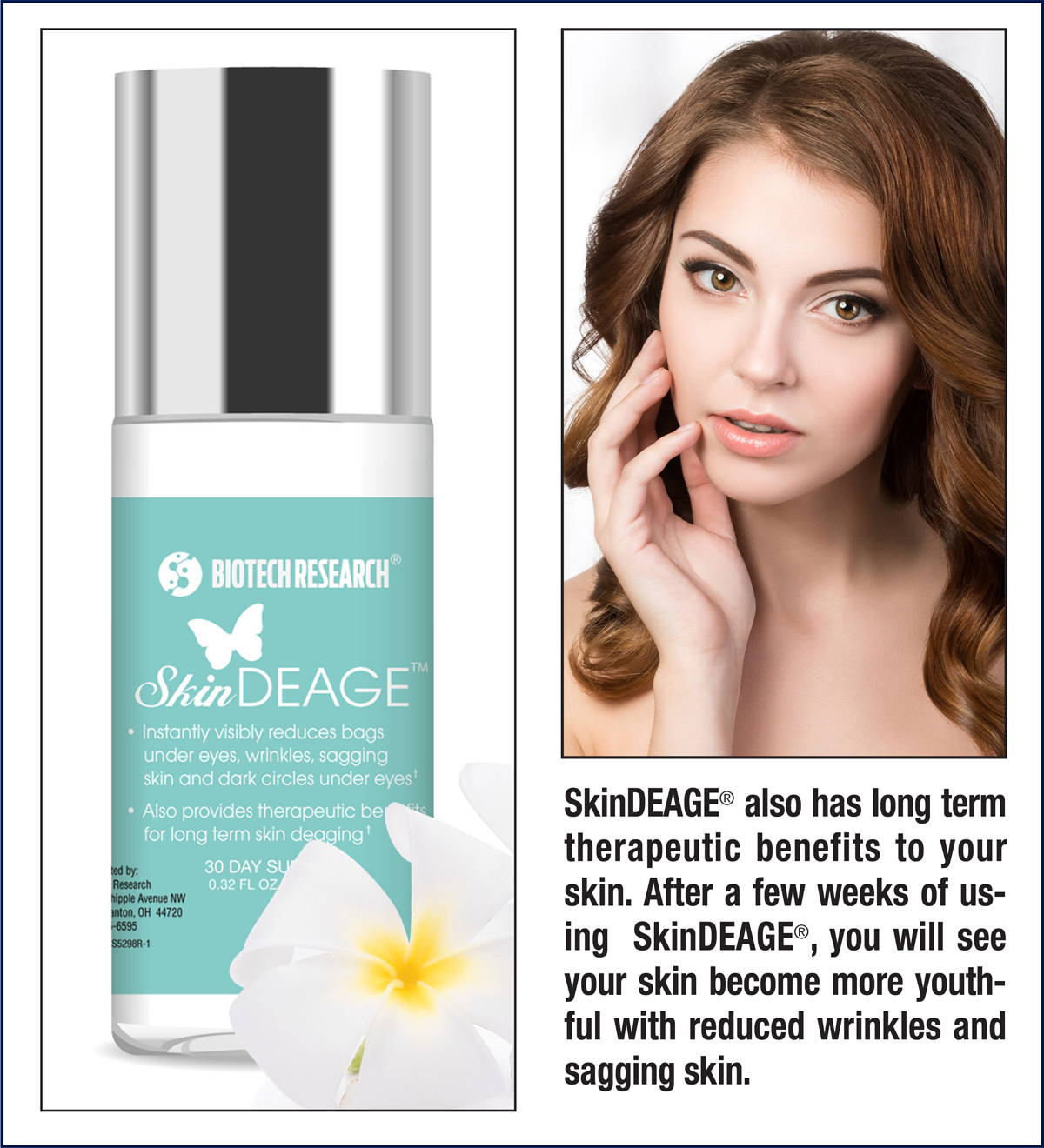 But the formula for SkinDEAGE® was created with this problem in mind. In just minutes you will notice the dark circles under your eyes disappear. Now when people see you they will beg to know your secret to looking so refreshed!
With SkinDEAGE®, less is more. The formula is so powerful you only need a small amount to nourish and revitalize your skin. It does NOT require caking a cream on your face to only cover it up with no actual results; you should only use a pea-sized amount of cream or smaller.
The regular price of a 30-day supply of SkinDEAGE®, which is far superior, is only $99 plus $7 shipping and handling. But for a limited time, you can get a $20.00 discount on 1 bottle and your price is only $79 plus shipping and handling.
Order in the next 5 minutes and get a Extra Flash Discount of an additional $40. Get a bottle of SkinDEAGE for only $39!
Your discount will be taken at checkout!
BioTech Research® products carry a 100% satisfaction guarantee. If you are not totally satisfied, every cent of your money will be refunded. BioTech Research® has been the world leader in innovative products for health, fitness and beauty for over 25 years so you can rely on this guarantee.

To order by phone call 1-800-264-6974
Your online transactions with BioTech Research are safe.