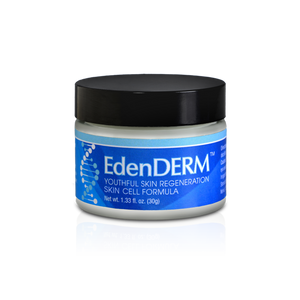 This breakthrough in skin health treatments called EdenDERM™ Youthful Skin Regeneration, signals your own skin stem cells to produce new, fresh layers of skin like you had when you were 21-years-old.
Fine Lines: Shallow lines on face around eyes, nose, mouth.
Wrinkles: From natural aging and loss of collagen
Sagging Skin: From loss of collagen and facial fat.
EdenDERM™ is scientifically proven to affect over 22 skin genes that stimulate youthful skin production.
In EdenDERM™ clinical studies, the hydration of the subjects' skin increased a dramatic 107% within two weeks, with visible wrinkle, fine line and sagging skin reduction.
EdenDERM™ substantially beat Retinol®. 
Retinol® once own the market for healthy skin, but now suffers in comparison to the effectiveness of skin cell-boosting formula in EdenDERM™ Youthful Skin Regeneration!
The body takes about 9 months to fully grow new skin, but, you will see results quickly. Within a few hours of EdenDERM™ application, under a microscope, your skin sells will start looking younger. But within 2 weeks, you won't need a microscope.  You'll notice a dramatic difference in the softness and smoothness of your skin. The glow that you will experience is from the greater hydration of your skin and the diminished visible lines and wrinkles.
*** Not available in California